Rosé wine is not reserved only for ladies' night, summertime and pool parties.
Light, food-friendly and sometimes fizzy, Rosé is a popular drink for every season. A beautiful wine to gift or fill up your wine fridge to combat the city's sweltering heat—my fellow rosé enthusiasts, would agree!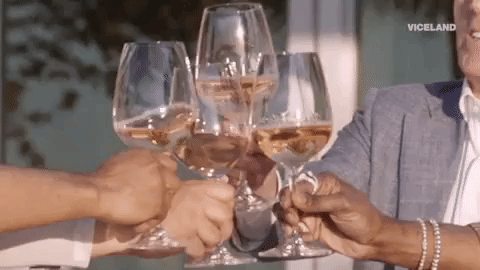 What's the best food pairings for Rosé?
Everything from salad to chicken to fish and even steak all goes well with different varieties of rosé. Because it's served chilled, it's a great complement to just about any dinner you feel like making – or any takeout you get when you just don't feel like making anything.
One of the most versatile cocktail bases 
Plus, Rosé is also affordable as a base to create a variety of alcoholic mixed drinks. This is because it doesn't need to be aged, so it's easier (and cheaper) to produce, and therefore, tends to cost less.
Below, we have curated a list of Rosés suitable for any budget and anyone above 21+. Whether you're treating a loved one, friend, or even yourself, we GUARANTEE there's a bottle of Rosé for you.
🍷Click on the images below to start shopping! 
---
Small Valley Vineyard Pinot Noir Rose from Adelaide Hills, Australia, is medium-bodied, dry and zesty with lovely fruit-forward flavours. Now imagine spending an evening on a yacht with this beautiful pink-tinged wine as you admire the sunset glow—this is a picture-perfect vacation.
---
Rosé wine from Côtes de Provence, France. The Chateau Minuty Rose Wine is light, dry and acidic with plenty of fruits. Regarded as one of the best Provence rose wine. While you can't be travelling to the beautiful French beaches, pick up this bottle and book a staycation in Sentosa to soothe your wanderlust.
---
Handpicked Regional Selection Rose wine from Yarra Valley, Australia, features a unique blend of red and white grapes, namely the Pinot Noir and Marsanne. Floral and complex in flavours, dry and smooth finish.
---
Minuty M Rose from Côtes de Provence, France. Floral aroma, well-balanced acidity and a smooth finish. Notes of strawberries, raspberries and citrus. The kind of wine that will transport you to the beaches.
---
Enjoy same-day* delivery with GetIt by Changi Recommends! Earn GetIt Stars to earn exclusive rewards!🛒