Taiwan possesses Asia's most robust democratic system. It practises a form of direct democracy, which means that even ordinary citizens have a say in the most important matters of state. This freedom of expression and participation translates into a rich culture. From the underground hip-hop and rap scene to the thriving arts community, Taiwanese culture is rich, diverse, and heterogeneous.
So why stay in a cookie-cutter hotel when you are in Taiwan? Instead, bunk at one of these unique Airbnbs that reflect the personality of their host—and their country.
Sunny Loft (Zhongshan, Taipei)
Dom's Sunny Loft is strikingly unique and stands apart from all the other loft listings in Taipei that have a bland industrial-modern vibe to them. Instead, Sunny Loft uses plenty of natural wood, evoking the zen of a traditional Japanese temple.
But there are also personal touches like an ornate Turkish lamp and surreal Dali-esque paintings that make you feel like you are in someone's home—and for a good reason, because Dom the superhost designed the entire house himself.
Gorgeous as the entire apartment is, the centrepiece is perhaps the loft bed. Compared to the aesthetics of the place, it might look simple, but it commands a gorgeous view of a park. Surrounded by the serenity of nature and ensconced in the cosy loft bed, it might be hard to leave the apartment even though Zhongshan station is just 3 minutes away!
Book Now: From $211 per night
Living in the Nature (Shoufeng, Hualien)
When you first lay your eyes on Crystal's villa, with its European barn-like architecture and set amidst sprawling greenery, you'd be forgiven if you think you were suddenly transported to a pristine, idyllic forest in rural France. But no—you're actually still in Taiwan—in Hualien, to be specific.
But Crystal's villa is not just a carbon copy of a European country retreat. Inside, it is furnished with antiques collected from her travels, like oak double-doored cabinets and a stately writing desk, giving it an eclectic feel. It's simply gorgeous and full of character.
The real highlight of the place, however, is the location it is set in. While staying in Crystal's villa, you will call wild animals and plants your neighbours, and drink from the sweet waters of a mountain spring. On a cloudless night, you might even get to see a sky full of stars from the patio. When you book Crystal's villa, you're booking more than an accommodation. You're booking an experience.
Book Now: From $157 per night
Play Design (Datong, Taipei)
Play Design's room oozes industrial chic. It looks like the room of a creative who carefully curated each individual piece of furniture in the room, making sure every piece is functional yet stylish, simple yet intricate. And that's because it is the room of a creative—sort of.
The room is a recreation of Japanese illustrator Naho Ogawa's room, and all the furnishing is sourced from local Taiwanese designers. So the room is, in itself, a cultural destination, a design mecca for the discerning traveller.
It's a space built for play and work—and for the creative for whom work is play. Staying at Play Design's room, you'll undoubtedly find inspiration from the confluence of Taiwanese design and Japanese visual language.
Book Now: From 199 per night
Cingjing Campfire Sky Glass House (Ren'ai, Nantou)
The décor of Kuma's villa is understatedly elegant. We especially love the high, latticed ceilings, which give a sense of expansiveness and makes us feel as if we were at an Alpine lodge. Looking at the décor alone, we would already have featured it on our list of cool Airbnbs.
But this villa comes with a feature that is probably unmatched by any other listing: it offers a panoramic view of the Central Mountain Range of Taiwan. 
It's hard to describe the sense of awe that descends on you as you sit on a comfortable chair and gaze into the distance, contemplating life, watching the sun sink behind the mountains and wash the sky with a golden hue.
Really, words can't capture this sensation. This is one Airbnb which you'll fall in love with just by looking at the photos, but please, visit it in person. Neither words nor photographs can do it justice.
Book Now: From $193 per night
Ocean Loft with Sunset Views (Tamsui, Northern Taipei)
Mish's Ocean Loft is perfect for the urbanites looking for a stylish respite. Inspired by her living experience in New York and Los Angeles, this Airbnb is a charming Bohemian Industrial loft that marries industrial design and colourful Bohemian style perfectly. We love the floods of natural light in the space as well as the objects displayed, from old books to house plants and graphic paintings aplenty that add personality to the space.
Situated in the seaside district, Tamsui, the Ocean Loft also has a balcony that provides mesmerizing views of the coast and sunset. You'll wake up to views of the ocean and even get to practise yoga at sunset (Yes, there's a yoga mat!) Definitely an insta-worthy staycation right here.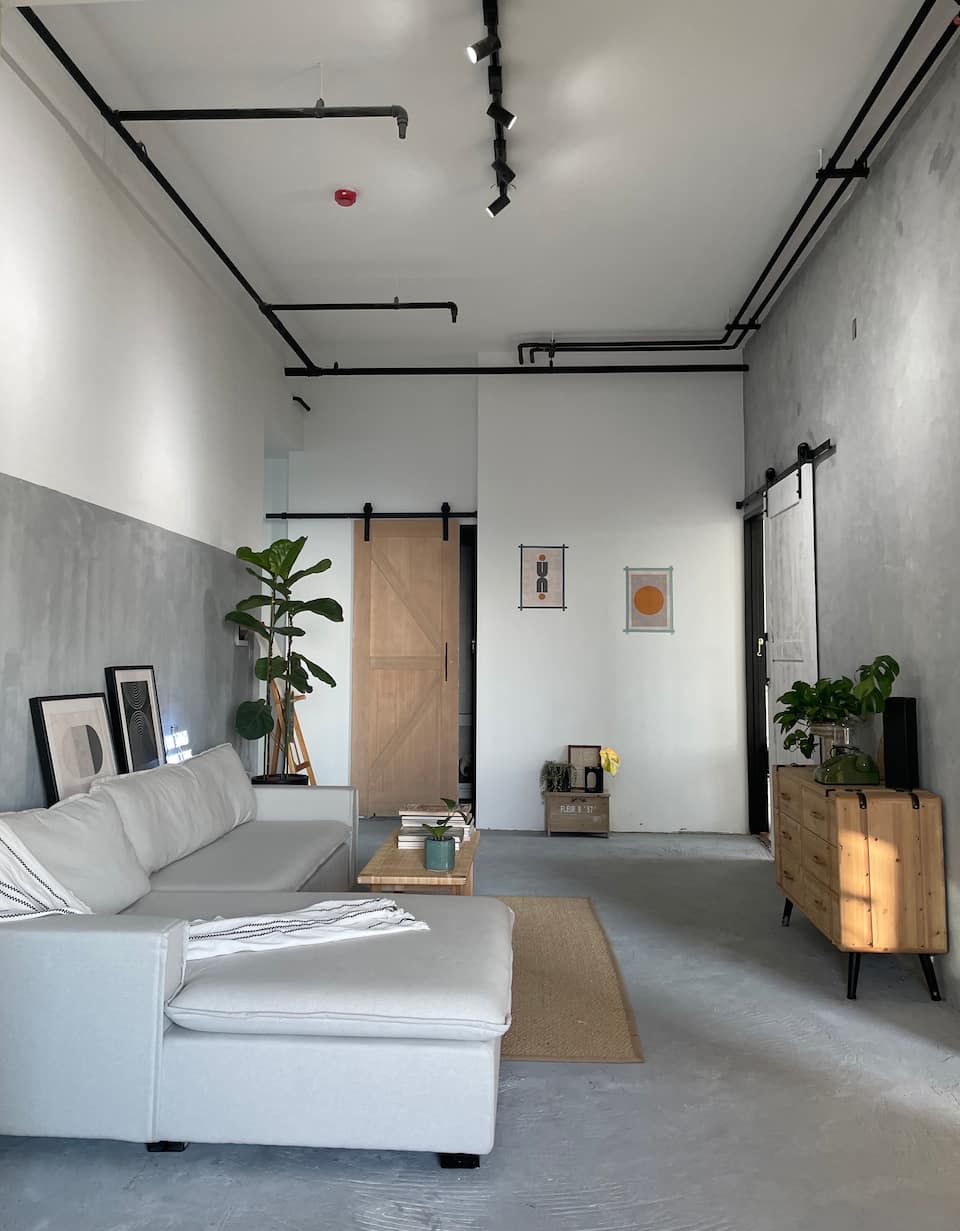 Book Now: From $86 per night
Disclaimer: All prices mentioned in this article are subject to Airbnb's change without notice.
Important to note: Due to the ever-changing nature of the coronavirus pandemic, please click here for the latest travel advisory and restrictions in Taiwan.