The world of wine can be overwhelming even for the most worldly wine lovers, shopping for red wine can be a challenge.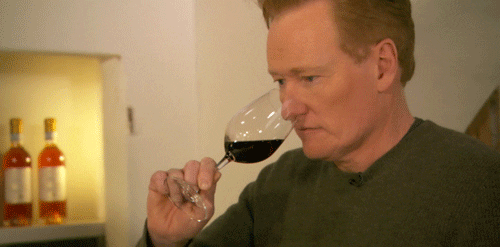 Here we'll help you to be acquainted with the pleasures of red wine by guiding you through the varietals, flavours, and bodies.
Essentially, winemaking is a form of agriculture and when it comes to red wine, they are made from grapes with red or dark purple skin. (🍷ICYMI: How red wine is made.)
What Does Red Wine Taste Like
Most red wines are high in tannins because they are fermented with their grape skins and pips, which results in a dry and bittersweet flavour.
The most prominent flavours of red wines are plum, cherry, raspberry, pepper, cocoa and liquorice.
Different Types Of Red Wine 
With numerous varietals, red wine is often classified by its "body type", or how heavy the wine feels in your mouth. Just like the texture of water, low-fat milk and full cream milk are different, and in the world of wine, they are described as light, medium, and full-bodied.
Full-bodied wines are richer in flavour and texture than light-bodied wines, which are fruity and young. The amount of alcohol in the wine is often directly associated with the wine's body, which is to say that lighter-bodied wine has lesser alcohol content.
When you're not sure which bottle of red wine to buy, you can streamline your options by identifying the body type, whether it be light-bodied, full-bodied, or somewhere in the middle. As a general rule, wine should have the same flavour intensity as the food. A bold red wine, for example, would go well with a rich dish.
---
What are light-bodied reds?
Light-bodied red wines are ideal for those who are new to the red wine scene. This type of red wine typically has lower tannins and therefore make excellent compliments to a variety of dishes. They are lightweight and refreshing that white wine drinkers will enjoy too. Light-bodied wine varieties tend to grow in cooler climates.
Pinot Noir: One of the oldest grape varieties in the world, Pinot Noir has been around since ancient Roman times. Pinot Noir is the dominant grape variety in Burgundy's red wines and Champagne. It thrives in a cool climate and is grown all over Europe and the New World. The wine has a delicate and fresh flavour profile with soft tannins and fruity aromas. The wine is typically in a light red colour, but in warmer climates, it can get darker. This terroir-driven varietal is popular among red wine connoisseurs. It has a strong aroma and varies in flavour from cranberry to black raspberry depending on where it is cultivated. 
Gamay (or Beaujolais): Gamay is the signature red varietal of Beaujolais, Burgundy's most southern sub-region (in France). This purple-coloured grape variety yields a light-bodied, earthy wine with flavours of cherry, herb, and banana. Gamay is known for its expressive fruity aroma and a long, smooth finish on the palate. If you enjoy Pinot Noir, a Gamay-based wine is a great varietal to try next. 
Grenache (or Garnacha as it is known in Spain): Grenache is a thin-skinned red wine with fruity flavours and bright acidity that is similar to Pinot Noir.  The blue grape variety of Spanish origin is a great varietal to try to learn about acidity in red wine and it is also the most versatile with food. There are different expressions of this grape depending on the region, but it's always bright and full of fruit. Some of the best rosés are made with Grenache as the primary grape. These can be found all over southern France, but some of the most well-known come from Tavel in the southern Rhône and Provence (a region south of the Rhône along the coast).
---
What are medium-bodied reds?
They're not too light or too bold; they're just right. Medium-bodied reds showcase a little bit more tannins than lighter wines, but still don't hit you over the head with complex structure or intense flavour. Typically, they boast dominant red fruit flavours.
Merlot: If you've ever had a Bordeaux, you've probably tasted Merlot somewhere in there. Merlot is one of six grape varietals permitted in Bordeaux blends. The wine's main flavour profile is Cherry, chocolate, soft tannins. Merlot is an easy-drinking, versatile red that goes well with almost any food. Merlot from France will age for a long time. These are great wines to put away for a while and bring out for a special occasion!
Cabernet Franc: This black-skinned grape variety is always blended with Merlot and Cabernet Sauvignon to create world-renowned Bordeaux wines. But it is equally complex to be enjoyed on its own. A Cabernet Franc is adored for its savoury, bell pepper-like flavours, vibrant aromas and medium to high acidity. Other dominant flavours include strawberry, red plum, and chilli pepper.
Barbera: As the third most-planted red grape in Italy, Barbera is known for its deep colour, vibrant fruit flavours and low tannin. While the wine appears to be dark in colour, it actually has a light mouthfeel and it is also common to find flavours of black raspberry, strawberry, plum, and mineral in it. Barbera is meant to be drunk young. Its high acidity translates into a juicy food wine that is easy to pair with many different cuisines.
Zinfandel: Zinfandel is a medium-bodied, jammy red wine planted and produced throughout California. It's bold without being heavy, with mid-range tannins and high acidity (plus a high alcohol content). It's a fruit-forward wine and some of the common tasting notes are black cherry, plum, blueberry, smoke, pepper, floral, and coconut.
---
What are full-bodied reds?
Full-bodied reds have the most tannins (and often the most alcohol content), giving the palate a sense of weight. These wines are best paired with a richer dish because they are bold enough to hold their own.
Cabernet Sauvignon: Cab (a natural blend of Cabernet Franc and Sauvignon Blanc) reigns supreme in the red wine world. It's one of the six grape varietals permitted in Bordeaux, but you can also find them in every major wine-producing country. Cabernet Sauvignon is usually oaked, bold in flavours (not sweet) and has strong tannins. Due to its rich flavour, it pairs perfectly with hearty grilled meats. Some of the tasting notes in cabs are raspberry, green pepper, violets, tobacco, coffee, and baking spices.
Malbec: Malbec is Argentina's most well-known red grape, though it originated in France as one of the six Bordeaux blending varieties (though it is now used in small quantities). The wines from Argentina are typically very ripe, luscious, and juicy! These wines typically showcase dark fruit, but in high elevations, more red fruit shines. Smoky notes are also very common. Malbec goes well with a variety of hearty dinner entrees, and it's especially good with red meat.
Shiraz: Shiraz is the new-world (typically Australian) counterpart to France's Syrah. Each sip delivers a powerful fruit-and-spice punch to the mouth, along with high tannins that help it age well. This variety is also exciting because it can taste so different depending on where it's from. Australian Shiraz is known to be full of ripe black fruit and spice. The wine is bold enough to pair with a variety of rich dishes, such as spice-laden grilled chicken or a spicy curry.
When choosing your next red wine, be sure to pay attention to tannins and body.
🍷

Start shopping for your red wines without being judged here!